KSIS provides installation, redeployment setup, maintenance and repair service for Fuel Rating System 'CFR F1-F2' & 'CFR F5'.
CFR F1-F2 Octane Rating System
with XCP Technology
Providing value & confidence in global fuel quality.
XCP Technology
Trusted design, reliable results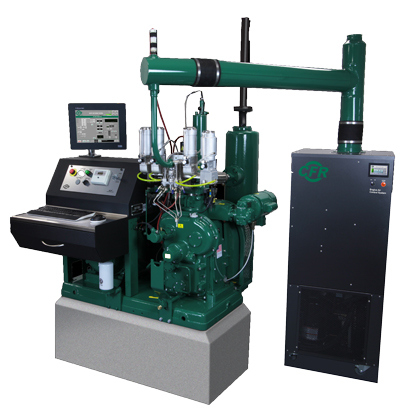 Specifications
Model: CFR F1/F2 Octane Rating System
Test Method: ASTM D2699, ASTM D2700, IP 236,IP 237, EN ISO 5164, EN ISO 5163
Octane Number Range: 40-120
Standard CFR F1/F2 System inclusions:
Engine Unit, Synchronous Motor, Compression Ratio Change, Motor, XCP Panel, Electronic Integrated Barometer, Laser Sensor, Exhaust Surge Tank System , etc.
Dimensions & Weight
Approx. 1.58x1.49x0.96m (H x W x D), 909Kg
Including concrete base: Approx. height 1.96m, weight
1,818 Kg with exhaust surge tank: Approx. depth 1.4m
Operating Condition
Motor Method(ASTM D2700)
Research Method(ASTM D2699)
RPM
900+/-1%
600+/-1%
Timing
Variable based on cylinder height
13° BTDC
Water jacket temperature
100℃+/-1.5℃ (212℉+-3℉)
100℃+/-1.5℃ (212℉+/-3℉)
Oil temperature
57℃+/-8℃ (135+/-15℉)
57℃+/-8℃ (135+/-15℉)
Oil pressure
172kPa-207kPa (25 psi-30psi)
172kPa-207kPa (25psi-30psi)
Vacuum
25-150 mm H2O (1-6 in H2O)
25-150mm H2O (1-6 in H2O)
Intake temperature
38 ℃+/-2.8℃ (100℉+/-5℉)
Barometrically Controlled Temperature
+/-4.4℃(+/-40℉)
Mixture Temperature
Standard 149℃ (300℉); Tunable Range
141-163℃ (285-325℉)
N/A
Intake temperature
0.00356kg-0.00712kg H20/kg dry air
(25-50 granis H2O/lb dry air)
0.00356kg-0.00712kg H2O/kg dry air
(25-50granis H2O / lb dry air)
CFR F5 Cetane Rating System
with XCP Technology
Providing value & confidence in global fuel quality.
XCP Technology
Trusted design, reliable results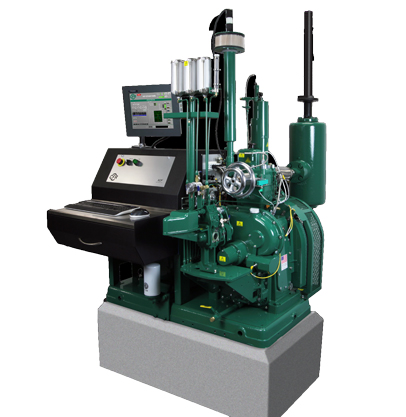 Specifications
Model: CFR F5 Cetane Rating System
Test Method: ASTM D613, IP 41, EN ISO 5165
Octane Number Range: 15-100
Standard CFR F5 system inclusions:
Engine Unit, Engine Unit, Synchronous Motor, Compression Ratio Change Motor, XCP Panel, Electronic Integrated Barometer, Laser Sensor, Exhaust Surge Tank System 등
Dimensions & Weight
Approx. 1.77x1.33x1.04m (H x W x D), 844 Kg
Including concrete base: Approx. height 2.15m, weight
1,754 Kg with Exhaust Surge Tank Approx. depth 1.57m
Operating Condition
| | Motor Method(ASTM D613) |
| --- | --- |
| RPM | 900+/-1% |
| Injection timing | 13 BTDC |
| Water jacket temperature | 100C+/-2C (212℉+/-3℉) |
| Oil temperature | 57℃+/-8℃ (135℉+/-15℉) |
| Oil pressure | 172kPa-207kPa (25 psi-30psi) |
| Crankcase vacuum | 25mm-150 mm H2o (1-6 in H2O) |
| Intake air temperature | 66 ℃+/-.5℃ (150℉+/-1℉) |
| Nozzle passage temperature | 38 ℃+/-2.8℃ (100℉+/-5℉) |